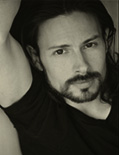 Jason Marsden
"Eric"
Jason Marsden's career spans more than fifteen years in the entertainment industry. His first big break was a recurring role on the daytime soap, General Hospital as Alan Quartermain Jr. Shortly thereafter, he landed his first television series, The Munsters Today, the revamped version of the original 60s series with John Schuck and Lee Meriwether, and Jason as Little Eddie Munster. The Munsters Today ran for three seasons, then Jason was cast on such shows as, Eerie Indiana, Almost Home: The Torkelsons, Tom, starring Tom Arnold, and joined the cast for the last two seasons of Step by Step, starring Suzanne Somers and Patrick Duffy. In the interim, he held recurring roles on Boy Meets World, Full House, and Blossom.
He has worked with award-winning Director Ridley Scott as the First Mate to Jeff Bridges' Captain in White Squall and was cast as Billy Crystal's character, Buddy Young Jr. at age 16, in Mr. Saturday Night.
In addition, Jason has guest-starred on such must-see TV hits as Will and Grace playing Will's unfortunately under-tall blind-date and Just Shoot Me as the grown up bully from Elliot's past. He played "Bug" in HBO's and Stan Winston's late night horror film, How to Make a Monster, and starred in the much anticipated Return to the Batcave: the Misadventures of Adam and Burt for CBS, with Jason as the Young Burt Ward.
Jason's also been fortunate enough to have an outstanding career in voiceover. Lending his voice to many animated films and series, one of his favorites is Max, Goofy's son, in the hit feature film: A Goofy Movie and then reprised the role in the straight to video sequel An Extremely Goofy Movie. Among Jason's many voiceover credits are, the Academy Award® winning: Spirited Away, The Lion King 2: Simba's Pride, Disney's Tarzan, Static Shock on the WB, Justice League on the Cartoon Network, Fairly Odd Parents on Nickelodeon in addition to many more.
Jason is a proud member of the DGA, having directed the season one finale of Nickelodeon's hit series: The Journey of Allen Strange for Lynch Entertainment. Jason is quickly expanding his career into writing and directing.